VallartaJoy Luxury Vacation Rentals SM

We are the premier vacation rental and property management resource for Nuevo/Puerto Vallarta! Let us help you plan a carefree vacation enjoying over 60 exclusive privately owned luxury beachfront, oceanview, marina-view fully equipped gated condos and villas located along Mexicoís western coast Ė commonly called Mexicoís Riviera Ė along the Bay of Banderas. We feature properties at Paradise Village (Nuevo Vallarta), Punta Esmeralda (Bucerias), Portofino (Puerto Vallarta) and other world class resorts. Vacation with us!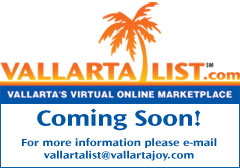 Return to previous page
Reservations
INDIVIDUAL RESERVATIONS

Thanks for inquiring about our beautiful luxury vacation homes for rent. Just complete the form below and weíll have one of our representatives contact you to follow-up and answer any remaining questions.
GROUP RESERVATIONS

We welcome group reservations. We can provide luxury vacation rentals for individual reservations as well as help you find another vacation home close by if you are traveling with other groups/families/friends/relatives and want to be close to each other or in the same complex. Just let us know.
RENTAL POLICIES

Click here to review our Rental Policies and Payment Options.
* = Required Field